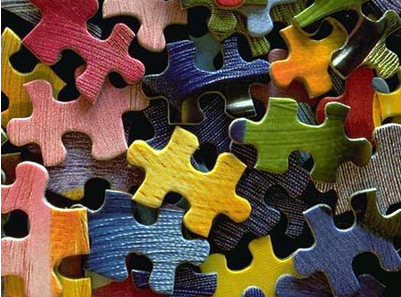 Just as we all need physical exercise, so too we all need mental exercise.  Just as our body becomes flabby from lack of physical exercise, so too our mind becomes "flabby" from lack of mental exercise.  Absent mental exercise, we're likely to become bored or even depressed.    The good news is that we have many ways of exercising our mind.  Let's take a look…
Work provides us with lots of mental exercise.  As workers, we stretch our mental muscles while performing all but the most medial tasks.  And as we've largely completed moving from a manufacturing economy to a service / information economy, those medial tasks have become much fewer.  Thus, the vast majority of us enjoy mentally stimulating work.  And through work, we get to stretch our minds for a very long time.  Consider that we spend eight or more hours per day, five or more days per week, for some four decades or so, working.
Many volunteer opportunities offer a significant intellectual challenge.  My wife, Wendy, and I teach English to Hispanic adults in our community.  With those students who are more advanced, I'm able to converse in English.  But for those students who are beginners, I need to offer instruction in Spanish.  Sure, it's more difficult for me to communicate in Spanish, my second language.  But doing so provides me with a stimulating mental exercise.
Reading means thinking, and thinking means mental stimulation.  A visit to your local library or bookstore, or to the website of an on-line book seller, will overwhelm you with the enormity of available reading material.  I happen to be a news junkie, so I read a number of news magazines and newspapers.  I also enjoy reading periodicals specific to my interests.  Reading, by the way, is especially stimulating when followed by related, meaningful conversation.  And this leads to…
Choosing friends carefully
Each of us has a few favorite interests about which we enjoy conversing.  And each of us (hopefully) has a friend or two who share one or more of our favorite interests.  If so, we have the ingredients for stimulating conversation.  Caution though, not every interested person is an interesting person.  Some people simply talk without saying anything.  I know a few such people.  I'll bet you do too.  To enjoy mental stimulation through conversation, we need to be selective about those with whom we spend our time.
Whatever our interest, there's a class to teach us more about it.  College degree programs, adult education classes, on-line classes, or audio tapes in the car.  The "how" doesn't matter.  All that matters is that learning involves thinking.  Wendy's Uncle Wes is 90 years old.  He continues to take two courses each semester at the college near his home.  Hats off to Uncle Wes!
Perhaps the most in-depth mental exercise of all, writing calls for an exactness of thought.  Obviously, such thinking is intellectually challenging.  And it really doesn't matter what you write.  You can write a blog, or articles for a magazine, or even an entire book.  It all requires thought.  Again, mental exercise.
Embracing new technologies
Learning new technologies requires that one "climb a learning curve."  Though at times frustrating, it certainly requires thought.  As for me, some day, I'm really going to figure out how to use my Photoshop Elements Software Program.
Some friends of ours, who are very much into birding, invited us to attend the annual bird festival in Eastern Oregon.  So, last spring, we hooked up our travel trailer and headed east.  Well no, I don't think they've converted me into a bird watcher.  But both Wendy and I had a grand time.  We saw a countless number of bald eagles and we learned a whole lot about a number of bird species.  In fact, if you want to know how to recognize a vulture in flight, just ask me.  Yep, intellectual stimulation.
Attending cultural events
Attending live theater stimulates thinking and encourages lively conversation.  The same is true for attending museums, lectures and concerts.  Once, with lots of encouragement from Wendy, I attended a ballet.  While it wasn't the most fun evening of my life, I did come away with an interesting story – The fellow seated to my right, apparently attending at the encouragement of his wife, leaned over and whispered in my ear, "Every man in this room is in love."
How about you?  Are you getting your share of mental exercise?  And if so, how?
– – – – – – – – – – – – –
Bill Birnbaum is author of, "A Lifetime of Small Adventures: Stories of adventure, misadventure, and lessons learned along the way."  He writes a blog at: www.AdventureRetirement.com.  Bill lives in Sisters, Oregon with his adventurous wife, Wendy, a red kayak and a well-worn pair of hiking boots.
Don't Forget To Follow PickTheBrain on Twitter!
Related Articles:
4 Musts to Staying Committed To Your Diet
The Massive Benefits of a Healthy Diet and How To Make Yours Stick
PickTheBrain | Motivation and Self Improvement| PickTheBrain | Motivation and Self Improvement